Bike Fitting
Giant Store Chelmsford is pleased to be able to offer a bike fitting sevice. Here's everything you need to know...
The importance of a bike fit
Cycling in pain or discomfort over time can lead to injury and potentially a long lay off from cycling. Perfecting your position will not only ensure that you are more comfortable enabling you to spend more time on your bike but you will become faster due to improving aerodynamics and power output.
Introducing our bike fitter - Nick Lyons
Nick is an exceptionally passionate cyclist who started his cycling life at the age of 12 in 1979, with the Chelmer Cycling Club. He made rapid progress and within 2 years had smashed the club's schoolboy time trial records, one of which still stands today. He then went on to thrive at schoolboy circuit and track racing and attracted the attention of Anglia Sport Peugeot one of the country's best cycling teams and was offered a place on the squad.
Nick continued to improve into his late teens and achieved good results in national road races. Unfortunately a crash related injury ended his racing days.
Nick returned to cycle racing in his 30's and for several years trained 6 days a week averaging well over 200 miles. Within six months Nick had already experienced saddle discomfort, back, neck, knee, iliotibial band, hand and foot pain and this was even after his previous cycling experience. His frustration lead a quest to perfect a pain free cycling position. The most popular saddles were tried, different shaped handle bars, length stems, pedals, gloves, shoes and footbeds were experimented with. He developed a micro feel which lead to finding the perfect set up but it took hundreds of hours.
How Nick can help
It is with this wealth of experience that Nick can help you to perfect your position, whilst saving you immense time, trouble and expense. Nick has been providing a bike fitting service since 2013 and has successfully completed  hundreds of bike fittings, which have included  national road race championship medalists and world triathlon participants. He has also been running  an outdoor fitness business since 2011, which has further enhanced his physiological knowledge. Whether you are a recreation/fitness rider, sportive rider, road racer, time trialist, triathlete or mountain biker Nick can help.
Biomechanical assessment
Nick will make a cycling specific, biomechanical assessment including foot structure and cycling shoe fit, overall symmetry, leg length discrepancy, general standing posture, lower trapezius strength, core strength, sit bone width and lower back, gluteal and hamstring flexibility.  Existing injuries and/or any medical conditions will be discussed and taken into consideration.
Video observation
During the bike fit you will be videoed cycling in order to view before and after footage and make comparisons. Nick can video you with his own device but recommends that he uses your device (smart phone, tablet or video recorder) so that you have immediate footage to take away. Observation will include leg extension, pedal stroke, Q-factor, knee and hip alignment, neck and shoulder tension, spine and arm extension in all potential hand grip positions and hand pressure.
Requirements for your bike fit
For your bike fit appointment you will need your bike, cycling shoes and to wear a well fitting, tight cycling jersey and shorts. It is vital that you are thoroughly warmed up before the bike fitting takes place as your body will become more flexible. This will involve reasonably rigorous cycling for approximately 10 minutes on a turbo trainer. Your current riding/training frequency and cycling objectives will be discussed too.
Bike adjustments and other recommendations
Adjustments will be made as necessary and will include cleat setting, saddle set up, handlebars, stem and brake/gear shifter positioning and possible component change recommendation to maximise comfort. Measurements can be taken if required in order for your bike fit dimensions to be transferred on to any other bikes that you may possess. Off the bike exercises and stretches may be recommended to help counteract and manage any physical weaknesses you may suffer from.
Complete after service
To ensure that your new bike position works for you and for feedback that Nick values immensely, you are welcome to contact him, free of charge, to discuss your progress as often as you wish.
Testimonials
"Nick completed a bike fit for me earlier this year to get me ready for a year of racing! Nick was excellent, he was so friendly and welcoming and made me feel at ease from the start. He spent time looking at my riding position, how the bike could work for me better and was able to align my shoes correctly. After my fitting my riding position was so much better and I was able to ride with no further aches or pains. Nick said if I had any further issues to just see him again, around 6 months I bought some new shoes had some unfortunate niggles, Nick said pop along and he would sort them for me and he did. Nick also gave me some great tips on keeping my feet warm whilst out on my winter riding! I believe Nick's Bike fit made me a better rider and allowed me to qualify and race for the Great Britain Triathlon Team including the European Aquabike championships in June 2020! I can't recommend Nick enough, his service is fantastic! Thank you!" - Kelly Beaver, Chelmsford - Great Britain Triathlon Team
"Hi Nick, just had first ride only an hour because the weather looks awful for tomorrow. Position felt good, almost no pain whatsoever on right knee, back and neck. It was easier to get aero on either drops or hoods, felt more powerful and easier to keep the power going for longer. It was my left knee that grumbled a little bit but hoping that is just because of Brands Hatch. As a side to that I used heat rub on my knees before the park run and knees were pain free. So at the mo it's all looking very good. Cheers Chris" - Chris Bullock, Colchester Rovers Cycling Club
"Hi Nick, I've been meaning to text you for a while to let you know that my bike feels great and I've got no pain in my knee. Thanks for the help." - Phil Ramsey, Bishop Stortford
"Hi there Nick; Tanya here, big big grin on my face - thank you so much. 48 miles in ultimate comfort today 😃😀😄😁" - Tanya Roberts, Chelmsford 
"Nick, Bike is awesome. Been for 2 rides now. 1 was 50km and another was 65km. Feels like a totally different bike. Saddle feels good too. Thanks again." - David Duxfield, London 
"Hi Nick, three weeks on from bike fit, bike set up feels natural, changed saddle to Fizik antares open standard and have just completed a sportive with pain free sit bones. Many thanks for help and advice Barry." - Barry Arundell, Chelmsford 
Making an appointment and price
To make an appointment please contact Nick on 07976 674596. The bike fitting will take approximately 2 hours and the cost is £110.00.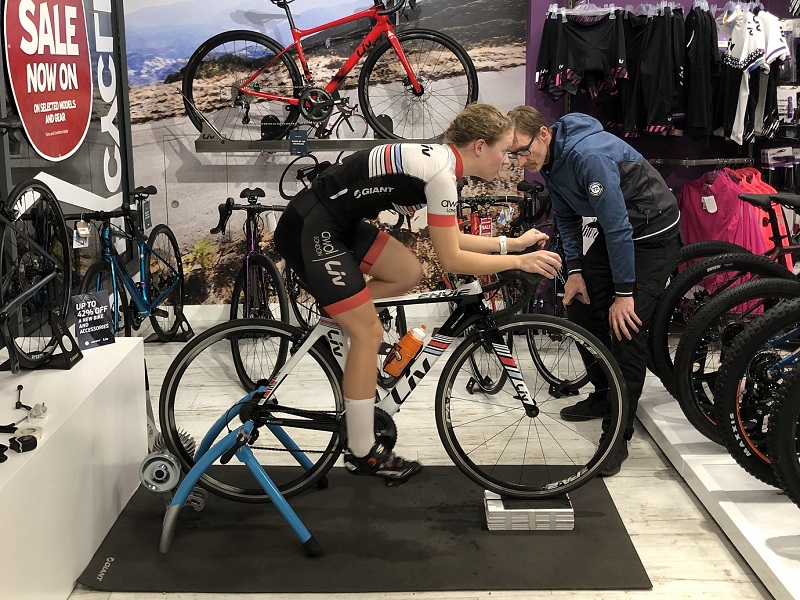 Nick improving Issy Torrie's aerodynamics and power whilst eliminating back pain. Issy has enjoyed two successful seasons road racing at national level for the Liv Junior/Under 23 Racing Team.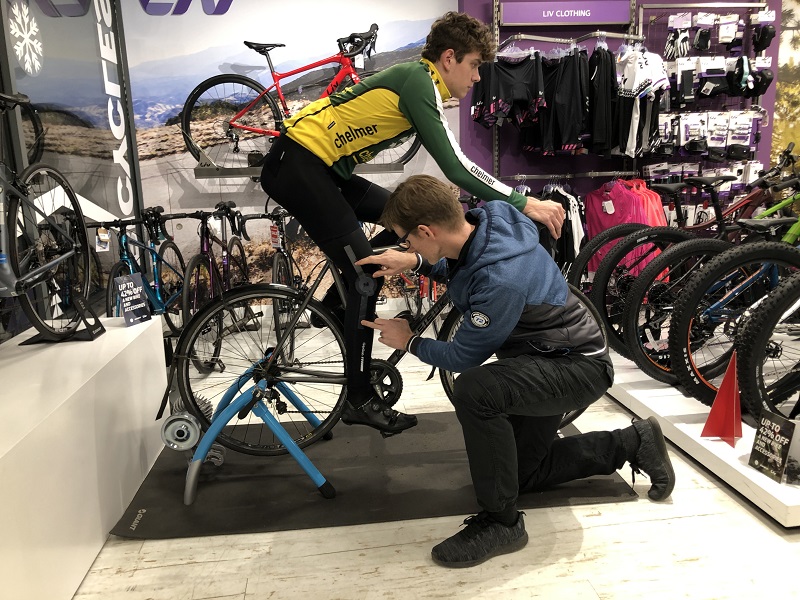 Nick perfecting 2019 Junior National Road Race Bronze Medalist Aaron Freeman's (Chelmer CC) position for his winter training bike.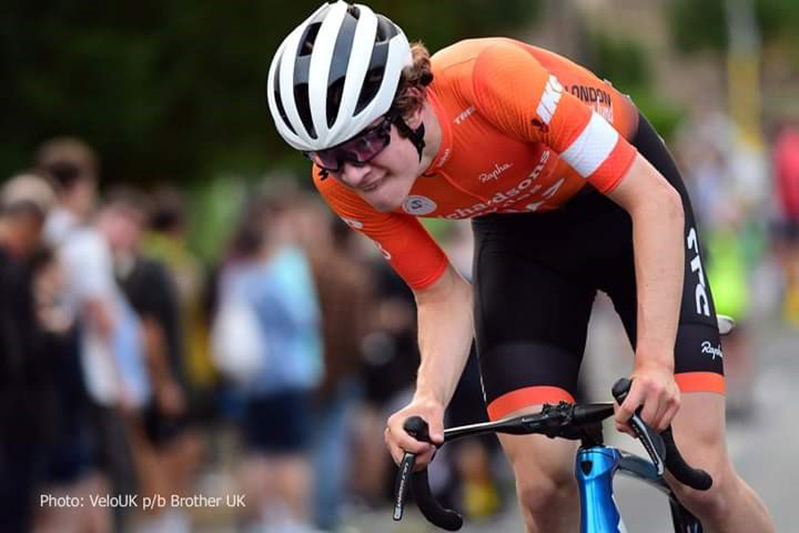 Aaron Freeman has gone on to ride for one of the top teams in the U.K. and has achieved top twenty placings in some of the biggest national senior road races. Here he is pictured flat out in the televised National Tour Series.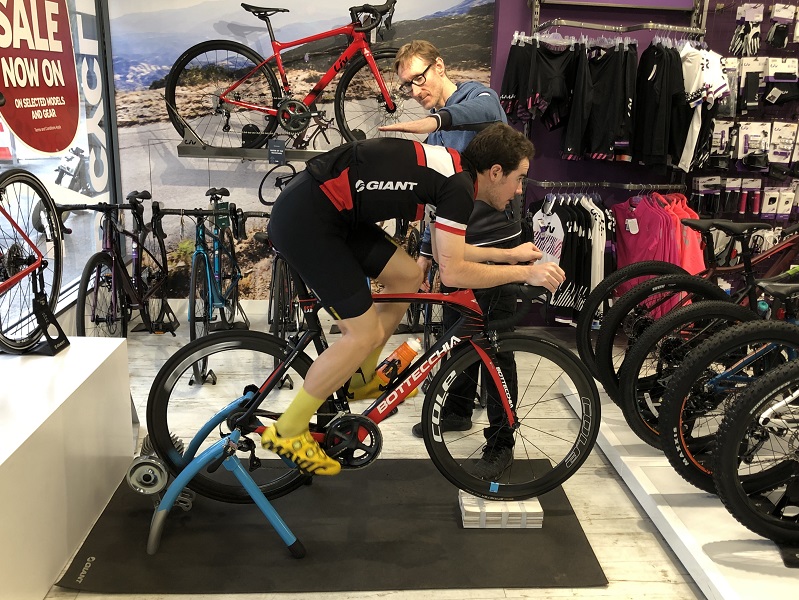 Nick helping professional road racer Tim Torrie eradicate foot and saddle discomfort, after a successful first year professional season with the Vitus Pro Cycling Team.
Nick perfecting Alistair Henning's position. Alistair achieved 25th place in the 2017 ITU World Triathlon Grand Final in Rotterdam on his new Trinity Advanced Pro 0.